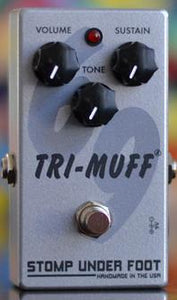 True-Bypass


9V Battery or 2.1 9V Adapter Only


8mA

NOS Parts

Handmade in the U.S.A.
 The 1969 Triangles are the very first versions of the Big Muff, they were built on perf board and there are several different versions in this series.
These early pedals are a bit more scooped than later ones and they are made with part values that were never used again.
The overall tone of the pedal is pretty balanced with just a little extra low end throughout and the fuzz has a huge, gnarly sound with a loose break-up in the fuzz on the lower strings.