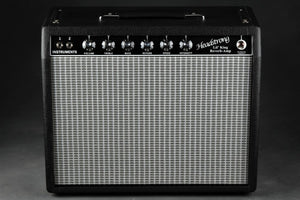 Since its introduction in 2004 the Lil King Reverb has become the go to amp in homes, studios and stages throughout the world.  Regularly used by many household names who own and can easily afford multiple vintage models.
It was and still is the world's first replica of the 1964 Princeton Reverb.
We have painstakingly re-created one of the best small gig/rehearsal/recording amps of all time. Whether you are looking for a practice amp or a portable gig amp to take on the go, the Lil King fits the bill. The original came with an inefficient 10" speaker, which we also replicate for the die-hard purist using the Eminence GA10-SC64 20 watt speaker.
Features a 12" 40 watt Alnico GA-SC59 speaker.
Don't let the small size fool you, The Lil King packs big Blackface tone!
Highlights
Hand-wired AA1164 Princeton Reverb replica
12 watts with Reverb and Tremolo
Tech Info & Features:
Replica of the 1964 Princeton Reverb
12 Watt Tube Powered
2 TAD 6V6 Power Tubes
100% Hand wired
Tube Reverb and Tremolo
Finger jointed pine cabinets
Alnico Speakers
2-Button Footswitch
Front Panel:
Hi/Lo Inputs
Volume
Treble
Bass
Reverb
Speed

Intensity
 Back Panel:
Power cord
Bias Pot
1A Fuse
Power Switch
8 ohm Speaker Jack
8 ohm X Speaker jack
Reverb FS jack
Tremolo FS Jack
Reverb OUT
Reverb IN